Fiber Content:
100% Peruvian Highland Wool
Weight:
Worsted
Knitting Gauge:
4.5 - 5 sts = 1" on #6 - 9 needles (4.0mm-5.5mm)
Crochet Gauge:
11 - 14 sc = 4'' on I - K hooks (5.5 mm-6.5 mm)
Yards:
22
Grams:
10
Put Up:
Mini Hank
Care:
Hand Wash / Dry Flat
Bare Wool of the Andes Worsted Mini
These small, undyed mini-hanks allow you to try out new fibers for a fraction of the price. The low yardage makes them ideal for whipping up swatches or for testing out your DIY dye experiments, without committing your time or wallet to a full size skein.

High quality worsted weight yarn that is perfect for hand dyeing. Cream colored straight off the sheep (well - washed, carded, spun and plied, of course) and very soft with the cushiony feel of handspun. This yarn also felts very well because it has not been bleached. Mix your hand-dyed creations with any of the other Wool of the Andes line.
{{ props.errorMessage || props.successMessage }}
28504 - Bare Wool of the Andes Worsted - 10gm Mini Hank

Fiber Content: 100% Peruvian Highland Wool
Weight: Worsted
Knitting Gauge: 4.5 - 5 sts = 1" on #6 - 9 needles (4.0mm - 5.5mm)
Crochet Gauge: 11 -14 sc = 4' on I - K hooks (5.5mm - 6.5mm)
Yards: 22
Grams: 10
Put Up: Hank
Care: Hand Wash / Dry Flat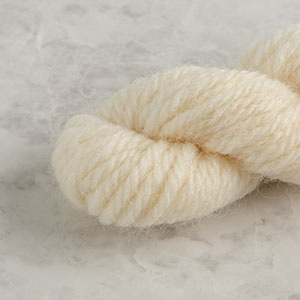 Bare Wool of the Andes Worsted - 10gm Mini Hank
SKU: 28504
---