Fiber Content:
100% Fine Superwash Merino Wool
Weight:
Worsted
Knitting Gauge:
4.5 - 5 sts = 1" on #6 - 9 needles (4.0mm - 5.5mm)
Crochet Gauge:
11 - 14 sc = 4' on I - K hooks (5.5mm - 6.5mm)
Yards:
22
Grams:
10
Put Up:
Mini Hank
Care:
Machine Wash Cold / Tumble Dry Low
Bare Swish Worsted Mini
$1.50
$1.20
/ 10g mini hank
These small, undyed mini-hanks allow you to try out new fibers for a fraction of the price. The low yardage makes them ideal for whipping up swatches or for testing out your DIY dye experiments, without committing your time or wallet to a full-size skein.

The workhorse weight of yarn now has even more appeal. It's practically indestructible! The superwash treatment does not interfere with dye absorption at all. You will be delighted with the range and intensity of colors you can get from dyeing this yarn. Your finished garment will survive repeated machine washing and drying. You can combine your hand dye with any of the colors from Swish Worsted for truly innovative creations.
{{ props.errorMessage || props.successMessage }}
28502 - Bare Swish Worsted - 10gm Mini Hank

Fiber Content: 100% Fine Superwash Merino Wool
Weight: Worsted
Knitting Gauge: 4.5 - 5 sts = 1" on #6 - 9 needles (4.0mm - 5.5mm)
Crochet Gauge: 11 - 14 sc = 4' on I - K hooks (5.5mm - 6.5mm)
Yards: 22
Grams: 10
Put Up: Hank
Care: Machine Wash Gentle Cold / Tumble Dry Low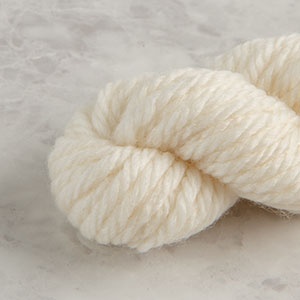 Bare Swish Worsted - 10gm Mini Hank
SKU: 28502
---