Fiber Content:
80% Superwash Fine Highland Wool, 20% Polyamide (nylon)
Weight:
DK
Knitting Gauge:
5.5 sts=1" on #5 - 6 needles (3.75mm - 4.0mm)
Crochet Gauge:
12 - 17 sc = 4'' on 7-I hooks (4.5mm - 5.5mm)
Yards:
35
Grams:
10
Put Up:
Hank
Care:
Machine Wash Gentle Cold / Tumble Dry Low
Bare Hawthorne DK Mini
These small, undyed mini-hanks allow you to try out new fibers for a fraction of the price. The low yardage makes them ideal for whipping up swatches or for testing out your DIY dye experiments, without committing your time or wallet to a full size skein.

Perfect for light garments and accessories, Bare Hawthorne DK employs the same classic high twist of other Hawthorne yarns, giving it the bounce and resilience Hawthorne is known for. Hand dye using the dye method of your choice to easily create your own colorways!
{{ props.errorMessage || props.successMessage }}
29495 - Bare Hawthorne DK - 10gm Mini Hank

Fiber Content: 80% Superwash Fine Highland Wool, 20% Polyamide (nylon)
Weight: DK
Knitting Gauge: 5.5 sts=1" on #5-6 needles (3.75mm - 4.0mm)
Crochet Gauge: 12–17 sc = 4' on 7-I hooks (4.5mm - 5.5mm)
Yards: 35
Grams: 10
Put Up: Hank
Care: Machine Wash Gentle / Tumble Dry Low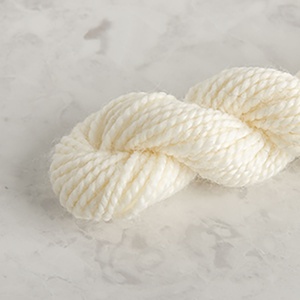 Bare Hawthorne DK - 10gm Mini Hank
SKU: 29495
---