Yarn
Let's talk yarn! The most important consideration when choosing yarn for socks is machine washability and durability. While you can always hand wash your socks, being able to easily toss your hand knits in the washing machine is always a bonus with something you're going to wear every day. Look for the addition of nylon to your yarn for elasticity and also ensure that your fibers are "superwash"; a superwash yarn has been treated to prevent felting. We have three families of sock yarn that we recommend for the perfect pair:
Pro Tip!
To make a pair of socks, you'll need about 50 grams of yarn to make a pair of child sized socks or 100 grams for adult sizes.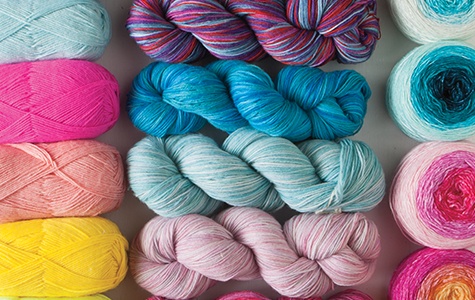 Stroll
75% Superwash Merino Wool, 25% Nylon
Soft, warm, and machine washable. This line features the most variation and comes in tweed, long gradients, solids, as well as hand painted dye effects.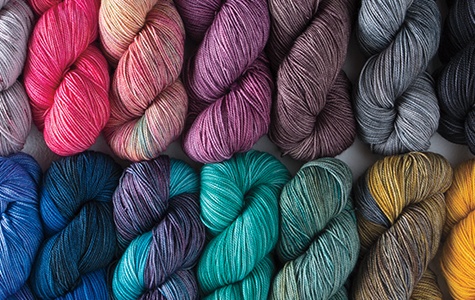 Hawthorne
80% Fine Superwash Highland Wool, 20% Nylon
Hawthorne features a high twist for durability, is machine washable, and comes in a huge range of fun hand painted dye effects, including speckles!
Needles
Once you've picked out your yarn, it's time to select your needles. Look at your yarn's label to see which size needles are suggested. Most sock patterns using fingering weight yarns call for between a US 2 (2.75mm) and US 3 (3.25mm). Make sure to do a gauge swatch and match your gauge to the recommended stitch count in the pattern!
Socks are knit using either DPNs (double pointed needles) or fixed circular knitting needles.
Pro Tip!
Mix and match! Using fixed circulars to knit socks is even easier when you use DPN needles to work the heels!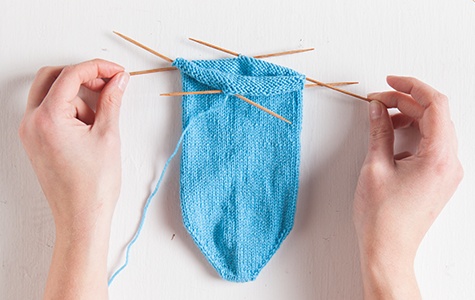 Double Pointed Needles
DPNs are a great place to start if you're new to socks. It's easier to keep track of your pattern sections if they're on separate needles, and they can make knitting the toes and heels an easier endeavor.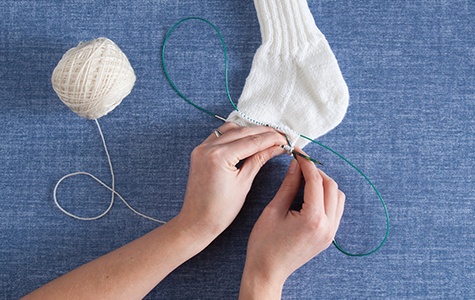 Fixed Circular Knitting Needles
You can knit socks on one fixed circular knitting needle using the Magic Loop method or on two fixed circulars using the two circular needles method. Not only are there fewer needles to keep track of, you can also knit two pairs of socks at once using the two-at-a-time technique.

Back to Top