With endless yarns to choose from, it can be hard to pick the right one for your next project! There are two key factors to start with when choosing a yarn: fiber and weight. But what are the different fibers and weights a knitter might use, and how does one go about choosing which are best for a project? A little education mixed with a little hands-on practice is all it takes, and below we've got all the information you need before you're ready to start casting on.
The Most Common Yarn Fibers

When talking about textiles, fibers are the materials that get spun to create yarn, and they can come in a variety of forms from a variety of sources. Knowing which fibers are best suited for this or that will help you create projects you love everytime, whether you're substituting yarn in a pattern or planning from scratch. Different fibers behave differently, so no matter how skillfully the stitches are knit, the fibers used have a heavy influence on the overall look. Knitting fibers are typically broken into three categories—animal fibers, plant fibers, and synthetic fibers—because this makes it easy to avoid allergens, but there are other key factors to keep in mind such as care and the ideal season to wear each fiber. We've included each of these details and more for the most common fibers you'll find on KnitPicks.com.
Animal Fibers »
Fiber: Wool
Ideal Season: Fall, Winter, Spring
Care: Hand wash cold and lay flat to dry
Favorite Yarns: Wool of the Andes, Palette
Wool is a fiber that comes from sheep, and it's the classic choice for hand knitting. Wool has a reputation for being warm, and it also wicks moisture and has a unique fiber structure that allows it to remain warm even when soaking wet. Wools with more crimp and thickness to the fiber, such as our beloved Peruvian wool, are incredibly hard wearing, but wools can also be decadently soft and delicate, like Merino, which is explained in more detail below. Wool makes lovely cables, lace that can be precisely blocked, and beautiful simple stitches. It also grips to itself, which makes neat colorwork achievable with less effort, allows for steeking, and makes unintentionally dropped stitches easier to get back on the needle. Wool can also be felted to create a dense, solid, structural fabric.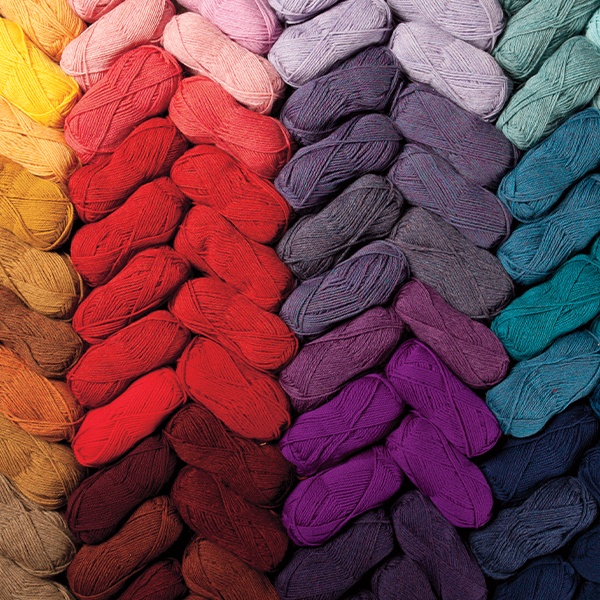 Plant Fibers »
Fiber: Cotton
Ideal Season: Spring, Summer
Care: Machine washable
Favorite Yarns: Dishie, Comfy, Shine
Cotton is the most well-known plant fiber and one of the most popular fibers to knit with next to wool. It's a durable, breathable fiber that's incredibly versatile, making it an equally great choice for hard-wearing dishcloths and light summer tops. After the initial shrink, cotton can be washed on hot water and come out looking just as great as it did before, which is why it's a favorite choice for homegoods. It creates crisp stitches with good definition, but cotton lacks elasticity—meaning when stretched, it stays stretched and does not snap back—so it's not ideal for ribbing or fitted garments. Cotton is often blended with other fibers, like wool, acrylic, or viscose, to add in some elasticity.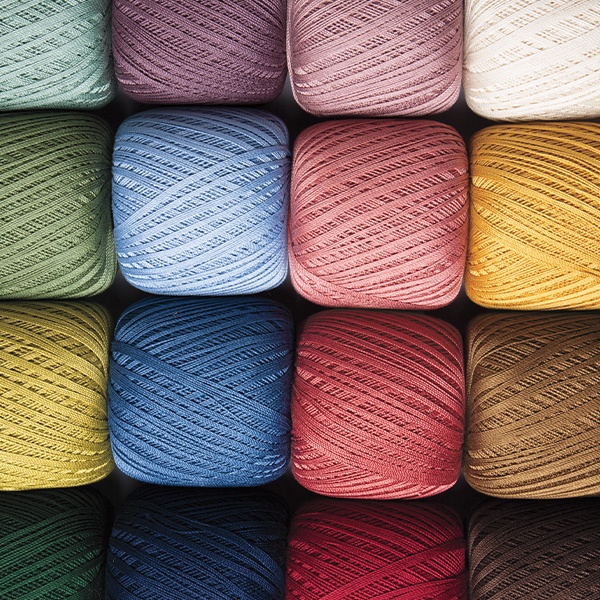 Fiber: Mercerized Cotton
Ideal Season: Spring, Summer
Care: Machine washable
Favorite Yarns: Animation, Curio
Shine and luster are added to cotton through a chemical treatment called mercerization to create mercerized cotton, also known as pearl cotton. The mercerization process smoothes the outer layer of the cotton fibers, which creates an incredible sheen and also allows the mercerized cotton to absorb more dye and shed less lint. The one drawback to mercerized cotton is that it's less absorbent than regular cotton, so it's not well suited to dishcloths or washcloths. Except for being less absorbent, mercerized cotton shares many of the same properties of regular cotton, like being able to be washed on hot, breathability, low elasticity, and good stitch definition. Mercerized cotton is a popular choice for toys, thanks to its ability to be dyed bright, saturated colors, and it's also frequently used for lace doilies.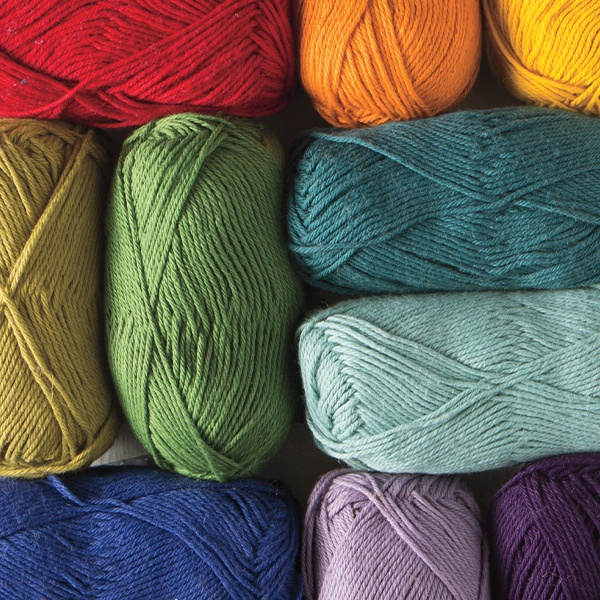 Fiber: Linen
Ideal Season: Spring, Summer
Care: Machine washable
Favorite Yarns: CotLin, Lindy Chain
Linen is one of the oldest plant fibers still commonly used, and it comes from the flax plant, which also provides flax seeds. Linen is best known for its breathability and sweat wicking properties for garments, but it's also a great choice for homegoods like washcloths because it dries even faster than cotton. Much like cotton, linen can shrink initially when washed with hot water, but once shrunk, it can hold up to hot water. Often 100% linen can feel stiff and maybe even a little scratchy, but as it's worked with, used, and washed, it becomes softer and softer, eventually becoming irresistible to touch. Linen is the perfect fiber for heirloom projects because of how it softens with age, but linen blended with other fibers like cotton allows knitters to enjoy soft projects from the start, which will only get softer over time.
Synthetic and Processed Fibers »
Fiber: Acrylic
Ideal Season: Fall, Winter
Care: Machine washable
Favorite Yarns: Brava, Heatherly, Mighty Stitch
Acrylic is a synthetic fiber that's typically produced to imitate the look of wool for handknitting. Lightweight and sturdy, it's one of the best alternatives to wool for those that suffer wool allergies. It's a great choice for cabled and textured projects, but as a man-made fiber, acrylic likes to consistently keep its original shape, so the way it looks on your needles is likely to be how it remains. This means that lace cannot be blocked open unless the yarn is set with steam, which ever so slightly melts the fibers and permanently alters their shape and texture.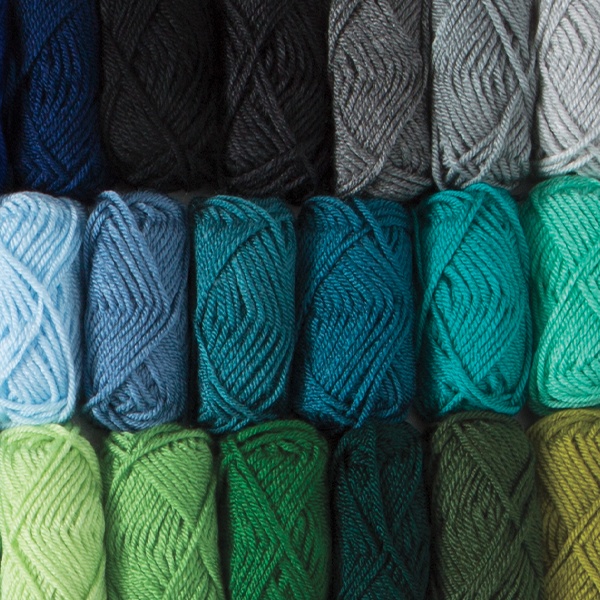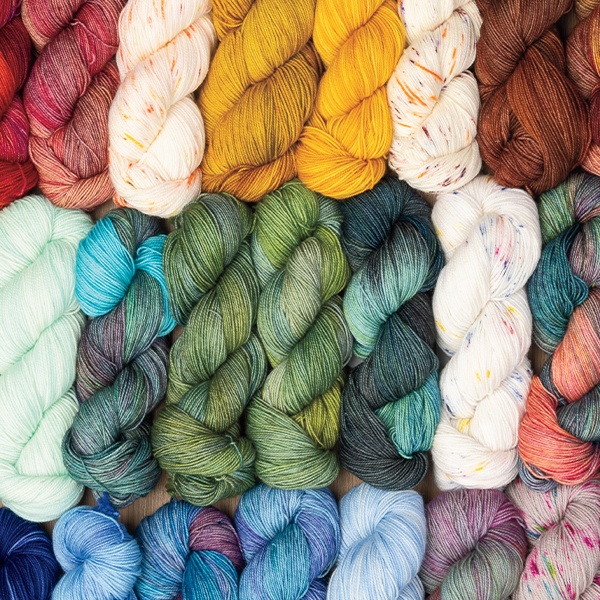 Fiber: Nylon
Ideal Season: Fall, Winter
Care: Machine washable
Favorite Yarns: Hawthorne, Stroll
100% nylon yarns are rare to see, but nylon is a staple of the knitting world thanks to its contributions to sock yarn blends! An early attempt at imitation silk, nylon is one of the strongest, flexible man-made fibers out there, and it helps to create yarns that can hold up to being walked on day after day. It also has a high amount of elasticity and dyes incredibly well, all attributes that make a handknit sock even nicer!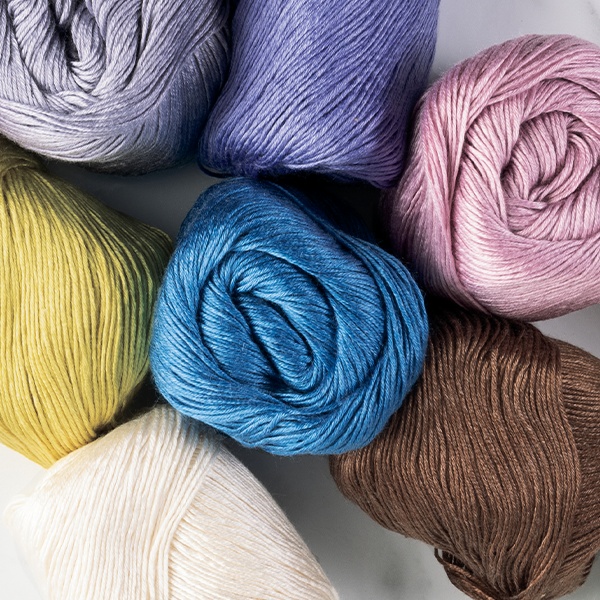 Fiber: Rayon
Ideal Season: Spring and Summer
Care: Hand wash gently and lay flat to dry
Rayons straddle the line between plant fiber and manmade. Natural cellulose that is too coarse to become yarn naturally, such as wood pulp or bamboo, is chemically broken down and reformed as soft, silky yarn in a process that was originally created to imitate the work of the silkworm. There are variations on the chemical process and cellulose sources used, which all have different names like Cupro, Viscose, Modal, and Lyocell, and each has a slightly different sheen and texture. Rayons stretch and break easily when wet, so they should be washed with care, but when dry, it's a very sturdy fiber that both drapes well and maintains some elasticity. Much like silk and plant fiber yarns, rayon yarns create breathable knits with good drape, making rayon an ideal fiber for summer tops.
Yarn Weights Explained

Yarn weights indicate the thickness the fibers are spun into, and understanding yarn weights can help guide you to making the right choice to match the gauge of a pattern or create the project you're dreaming of from scratch. Because different fiber types spun to an equal size yarn can weigh different amounts, the physical weight is not used to determine the yarn weight typically. Instead, either the wraps-per-inch or the average stockinette gauge of a solid fabric are used to determine the weight. At Knit Picks, we use the average stockinette gauge. A heavier yarn with fewer stitches per inch will make a thicker, bulkier project, and a finer weight yarn with more stitches per inch is best for lightweight garments and accessories. Referencing this guide will help you get the right density and drape in your next finished project!
Yarn Weights »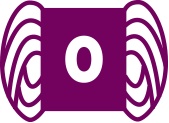 US Weight: Lace Weight
Weight Standard: 0
Also Known As: 2-ply, crochet thread, cobweb yarn
Average Needle Size Used: US 00–1 (1.5–2.25mm) for solid fabric, but typically larger needles are used for open lace
Average Stockinette Gauge Using Average Needle Size Over 4 Inches (10mm): 33–40 stitches
Typically Used For: Lace shawls, wraps, and stoles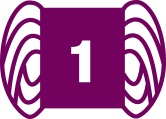 US Weight: Fingering Weight
Weight Standard: 1
Also Known As: 4-ply, sock yarn, superfine weight
Average Needle Size Used: US 1–3 (2.25–3.25mm)
Average Stockinette Gauge Using Average Needle Size Over 4 Inches (10mm): 27–32 stitches
Typically Used For: Socks, lace shawls, lightweight garments, lightweight accessories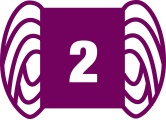 US Weight: Sport Weight
Weight Standard: 2
Also Known As: 5-ply, baby yarn
Average Needle Size Used: US 3–5 (3.25–3.75mm)
Average Stockinette Gauge Using Average Needle Size Over 4 Inches (10mm): 23–26 stitches
Typically Used For: Lightweight garments, lightweight accessories, baby sweaters, baby blankets, toys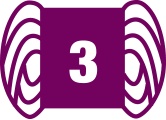 US Weight: DK Weight
Weight Standard: 3
Also Known As: 8-ply, double knit weight, light worsted
Average Needle Size Used: US 5–7 (3.75–4.5mm)
Average Stockinette Gauge Using Average Needle Size Over 4 Inches (10mm): 23–26 stitches
Typically Used For: Midweight garments, midweight accessories, toys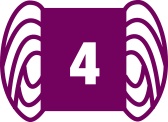 US Weight: Worsted Weight
Weight Standard: 4
Also Known As: 10-ply, afghan yarn
Average Needle Size Used: US 7–8 (4.5–5mm)
Average Stockinette Gauge Using Average Needle Size Over 4 Inches (10mm): 18–22 stitches
Typically Used For: Midweight garments, midweight accessories, blankets, dishcloths, toys, homegoods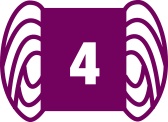 US Weight: Aran Weight
Weight Standard: 4
Also Known As: 12-ply, heavy worsted, fisherman's yarn
Average Needle Size Used: US 8–9 (5–5.5mm)
Average Stockinette Gauge Using Average Needle Size Over 4 Inches (10mm): 16–18 stitches
Typically Used For: Heavy garments, heavy accessories, blankets, homegoods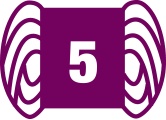 US Weight: Bulky Weight
Weight Standard: 5
Also Known As: 16-ply, chunky, craft yarn
Average Needle Size Used: US 9–11 (5.5–8mm)
Average Stockinette Gauge Using Average Needle Size Over 4 Inches (10mm): 12–15 stitches
Typically Used For: Heavy garments, heavy accessories, blankets, homegoods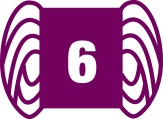 US Weight: Super Bulky Weight
Weight Standard: 6
Also Known As: Super chunky
Average Needle Size Used: US 11–17 (8–12mm)
Average Stockinette Gauge Using Average Needle Size Over 4 Inches (10mm): 12–15 stitches
Typically Used For: Extra heavy accessories, statement knits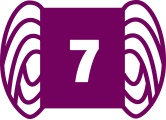 US Weight: Jumbo Weight
Weight Standard: 7
Also Known As: Roving
Average Needle Size Used: US 17+ (12mm+)
Average Stockinette Gauge Using Average Needle Size Over 4 Inches (10mm): 6 stitches over even fewer
Typically Used For: Dramatic statement knits
Back to Top