A Place for Every Knitter
We believe knitting is for everyone, which is why we work hard to make knitting accessible, affordable, and approachable. From inclusive sizing in our exclusive patterns to written color descriptions for every yarn, from our high quality yarns at every price point to our extensive, free Learning Center, we aspire to empower both new and experienced knitters to have fun with their craft and try new things with confidence.
The Knit Picks Story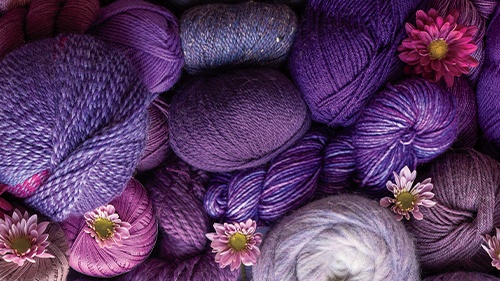 In 2002, Knit Picks was started when Kelley and Bob Petkun combined their respective powers in fiber crafts and engineering—all with the aim of creating beautiful products that were also consistent and reasonably priced. Started as a family business, Knit Picks has grown into so much more since Kelley and Bob's retirement. Maintaining the founding values of affordability and accessibility, Knit Picks now thrives as a small, collaborative team made up of passionate crafters who work together to develop products, curate patterns, and help create the best knitting experience for all.
The Knit Picks team is small but mighty and incredibly hands-on. Every product on our site has been used by someone in our office, including swatching new yarns to provide the best gauge recommendations and using new needles on our own projects to make sure that every detail is considered. In addition to making decisions as a team, we also benefit from the wonderful knitting community outside our offices. Customer suggestions, work with pattern designers, and collaboration with small businesses all help to make Knit Picks a welcoming place for everyone.
We understand that knitting is not just a hobby but a passion, and our goal is to cater to every knitter's needs, not only with a wide range of knitting products, but also with virtual resources, and in-person events. Get to know Knit Picks staff through the Stash Blog, the Knit Picks Podcast, and social media! We love sharing our own finished knits, our thoughts on our products, and inviting you all to knit along with us!
Meet the Team
We are knitters, too!
We love quality yarns in rich colors, and needles with sharp, well-tapered tips. We like patterns for practical, finished projects that are challenging and interesting, but never confusing. Ultimately, we share our favorite tools and yarns so that everyone can knit happy.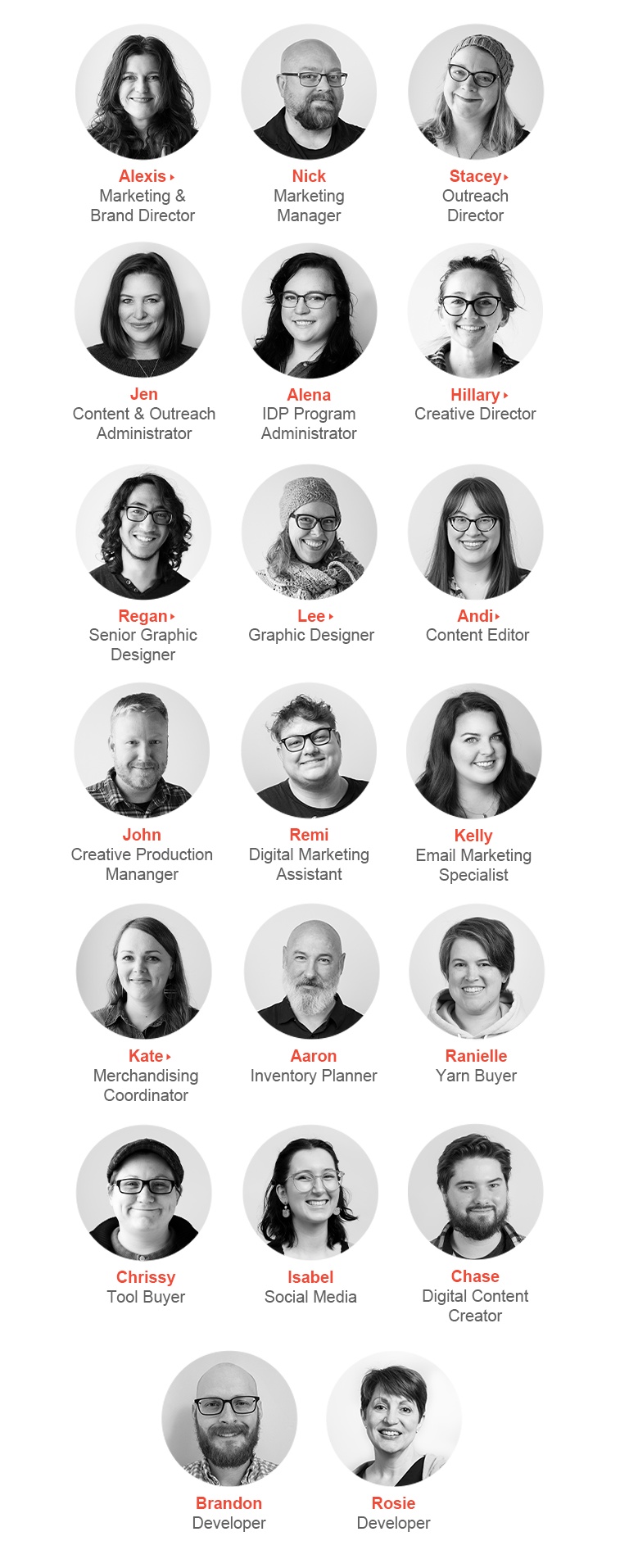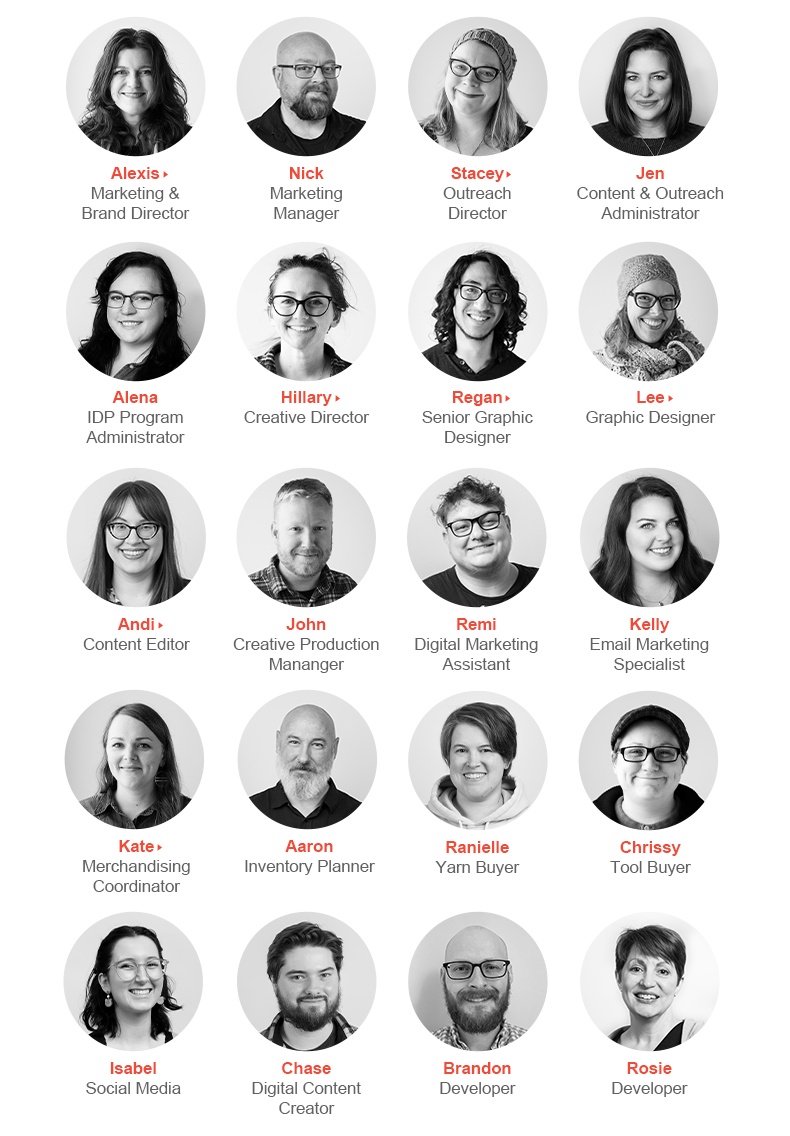 Our Commitment to Diversity
Knit Picks strives to be a place of comfort and joy—a true community of fiber lovers who support and care for one another. We know a true community is built one person at a time, made stronger and better when its foundation is built upon a diverse chorus of voices. Our craft—and community—can only grow stronger and better if we work to create a space that is safe, welcoming, and above all, amplifies voices that have long been marginalized.
As part of our mission, we are committed to working with a diverse community of designers, models, and small business owners. For over a decade, we have worked to shine our spotlight on independent designers, and will continue to use our reach and influence to bring new voices into this space. We commit to sharing the stories and work of Black crafters, Indigenous crafters, crafters of color, and LGBTQ+ crafters in all aspects of our business, as a direct reflection of the rich diversity within the greater crafting community.
Knit Picks is a small team of crafters, and we can't do it without you.
Learn More About How To ...
Knit Picks Products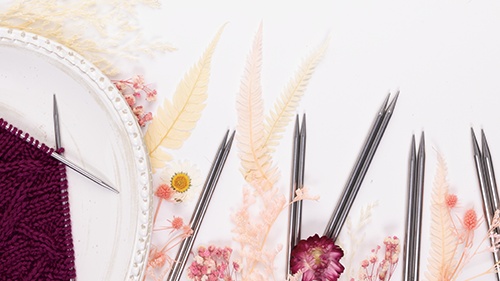 To create high quality products at the best prices, we go right to the source and work directly with trusted mills and manufacturers around the world. Our hands-on approach from start to finish gives us the freedom to make the yarns and tools you want at lower prices without ever sacrificing quality. Unlike traditional retail, we are both the middleman and the retailer, which allows us to keep costs low while maintaining high standards, and by working with trusted partners all over the world, we're able to source fiber-rich areas and manufacturers with expertise in high-volume production. Eliminating any middleman also allows us to have a close relationship with our manufacturing partners, helping to ensure safe, ethical, and respectful working conditions that exclude child labor and sweatshop conditions. We're proud to be able to offer affordable yarn without compromising our ethics.
Learn More About ...